FLOWER FAERIE CHARACTERISTICS

Flower Faeries are kind, sweet, and helpful, although some of them can be a little mischeivous at times! And while every Faerie has a unique personality, all faeries have certain things in common. they love music and dancing and will always find a reason to get together for a chat or to throw a party. Tea parties are expecialy poplural with the fae, because they enjoy preparing-and eating delicieous faerie food and drink.

Flower Faeires are also known as nature sprites, and the environment is very important to them. They do all they can to look after the plants and flowers that grow around them, and they live happily alongside the wild creatures that make thier homes nearby. In fact, Flower Faeries maek freinds with most animals an dinsects, and they help one another out as much as possible- faeries will even hitch lifts with grasshoppers and fly alongside birds so that they are less likely to be spotted.

Flower Faeirs are happy little creatures. They sometimes worry abou tthe weather or about humans picking thier plants or dropping rubbish nearby. But they are generaly calm and contented.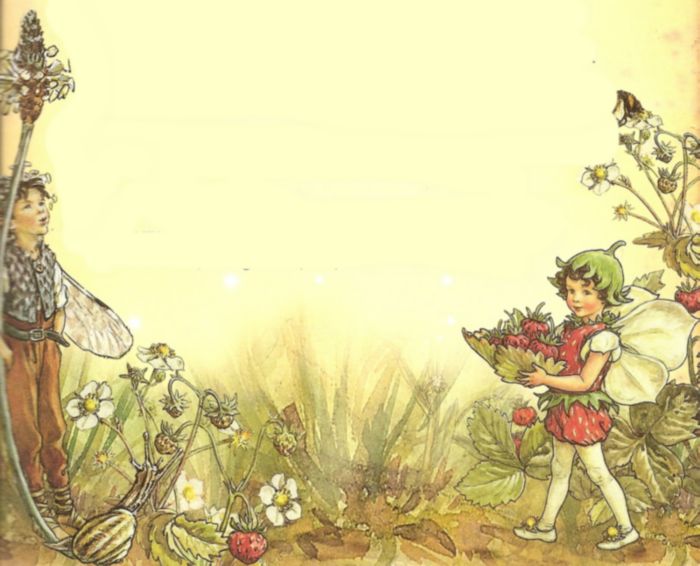 HOME
What is a Flower Faerie?
FLower Fairy Characteristics
Finding a Flower Faerie
Flower Faerie Appearances
WHERE

FEARIE HOMES
Living in the Garden
Homes
Decorating your Faeire Garden

Living by the Wayside
Living in the Woods and Tree
Living near Water and Marshland
Marshland poem
Spring Magick Poem
FAERIES AND THE SEASONS.
Spring
Summer
Autumn
Winter
Almond Blossom's Song

SECTRET STORIES:
ALMOSAT BLOSSOM'S MYSTERY.
Chapter One
The Longest Winter

Chapter Two
A Grand Plan

Chapter Three
The Outside World

Chapter Four
The Big Adventure

Chapter Five
New Friends.

Chapter Six
Back to the Garden

FAERIES AT WORK AND PLAY
THe Faries Busy Day
Lavender's Scented Sachets
Tansy the Fairy Tailor
Bugle the Fairy Gaurd
Self-Heal The Faerie Nurse
Playful Faeries
Music and Dancing
A Room in Bloom
Parties and Balls
Party Games
Mischevious Faeries

FAERIE FLOWERS AND TREES
Candytuff's Garland
The Meanings of Flowers
Pansy's Pressed Flowers
The Meanings of Trees
The Uses of Fairy Trees

FAERIE FREINDS AND FAMILIES
Making New Freinds
Animal Friends
Friends to the Bees
Freindship Fun
The Friendship Code
Faerie Babies
Parties With Poppy
Dressing up with Sweat Pea

FAERIE FASHION
Faerie Disquises
Hats and All That
Cornflower's Crown
In the Bag
Tip Tap Toe
Winges to Flutter By
Dainty Pretty Things
Marigolds Faerie Charms

FAERIE FOOD
Picnics and Tea Parties
Dear You...Love Me!
Sipping and Nibbling
Faerie Refreshments
The Faeire Marker

THE FAERIE KING AND QUEEN
SECRET STORIES:
ZINNIA'S MAGICKAL ADVENTURE

Chapter One
Babysitting

Chapter Two
High Up!

Chapter Three
Time to Explore

Chapter Four
New Friends

Chapter 6
Bedtime Stories

HOW TO BE A FLOWER FAERIE
Your Faerie Name
Heliotrop's Faerie Wings
Magick Faerie Spells
Good Night Flower Faeries.
Faerie Farewell.
Glossary of Flower Faeries.